TMA OFFICE BEARERS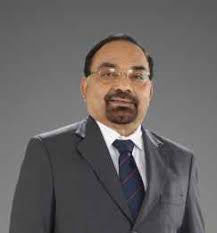 T R Kesavan
President, Tractor and Mechanization Association (TMA)
Thekkepat Raman Kesavan – "TR Kesavan" or "K7" as he is better known is an Engineering and Management professional with over 40 years of national and international experience in both functional and management areas. His domain expertise covers agriculture, construction and mining, oil tools and material handling. He actively participates and continues as the governing council member of industrial and government associations.
Speaker and mentor in national and international fora, Mr Kesavan has a track record of 30 years in areas of agriculture productivity and management, government industry interface and public private partnership. He has made several presentations and addressed professional gatherings across the globe. Mr Kesavan is also an external faculty for leading management schools.
Currently he is the Group President, Corporate Relations & Alliances (TAFE Limited), the world's third largest tractor manufacturer and India's largest exporter of tractors, with a large portfolio of agricultural products and equipment consisting of MF and Eicher brand of tractors, agricultural implements & equipment and engines in both Indian and Overseas markets. He represents TAFE in various industry bodies and government committees.
He had a distinguished academic career winning the Banko Award and Gold medal in his graduate studies in Engineering from the University of Madras and went on to be first in the university and a gold medalist in his management studies at the University of Bombay. He has completed the sandwich course by University of Michigan, Ann Arbor.
Mr Kesavan spends his spare time mentoring students. He is additionally a prolific speaker and teacher in management and marketing and lectures at leading academic and training institutions. A master of Reiki healing, he also dabbles in spirituality, painting, writing and carpentry and is an avid reader. Happily married, he has two grown up sons.
Positions Held
Chairman, Vision Group (Agri Implements), Depart of Industries & commerce, Karnataka Govt.
President of Tractor and Mechanization Association (TMA)
Vice President of Madras Chamber of Commerce and Industry (MCCI)
Convener – Special initiatives under Food, Agriculture and Retail committee, USIBC
Director UNAHA (United Nations - Habitat Alliance) a, UN - Habitat Agenda Partner Habitat Alliance
Member - Governing Council of the Automotive Research Association of India (ARAI)
Member - Governing Council of National Automotive Testing and R&D Infrastructure Project (NATRiP)
Signatory for National Automotive Board (NAB) and Governing Council member
National council member of Confederation of Indian Industries (CII)
Member - National Committee on Agriculture, CII
Member Indian delegation to United Nations, World Forum for Harmonization of Vehicle Regulations
Member Club of Bologna, Italy
Fellow - Society of Agricultural Engineers
Member - Society of Automobile Engineers
Executive Council Member of Indo-Australian Chamber of Commerce
Executive Council Member of India-ASEAN-Sri Lanka Chamber of Commerce & Industry

Hemant Sikka
Vice President , TMA
President , Farm Equipment Sector
Mahindra
Harish Chavan

Chairman, Marketing Committee

Chief Executive Officer, Swaraj Division

Mahindra

Subrata Mishra

Chairman,Finance Committee

Finance Director

John Deere

R P Vasudevan

Chairman ,Technical Committee

Director, R&D Product Development

SDF
Mukul Varshney

Chairman,New Initiative Committee

Director, Public Affairs Media and

Communication

John Deere

Atreyee Talapatra

Secretary, TMA